"Stop calling anti-abortion activists 'pro-life.' They're not."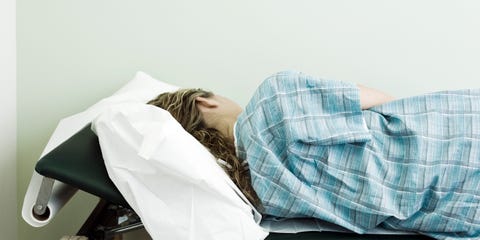 At least, not if you are a woman who believes that your body is your own.
The Trump administration may be the most fervently anti-abortion since Reagan.
This will likely come as a surprise to every man who, prior to Trump's election, assured me, "don't worry, he's really a democrat! He's not going to do anything about abortion!"
It seems you guys were wrong.
Trump has reinstated the global gag rule, preventing funding for overseas reproductive health organizations that offer abortion related services. Closer to home, Trump signed a bill on April 13 that allows states to cut off funding from organizations like Planned Parenthood that provide abortions. He has suggested that federal funding could continue to go to the women's health organization only if they stopped performing abortions.
All of this falls under the banner of a "pro-life" agenda.
Indeed, Vice President Mike Pence and counselor to the President, Kellyanne Conway, both spoke enthusiastically at the March for Life. There, the Vice President proclaimed, "We will not rest until we restore a culture of life in America."
Perhaps, when people enact these laws, they imagine what a world with more restrictive abortion rights—or a "culture of life" looks like. I do not think these people are evil. I suspect they have a vision of a world that is flawed. I think when they imagine that world of outlawed abortions, they imagine a world full of adorable, bouncing babies. They imagine happy mothers, and fathers who are, unexpectedly, delighted and doting fathers.
That is not reality.
It's not hard to see what a pro-life world looks like. It looks like a world with a lot of dead women in it.
El Salvador has a "culture of life." There, abortion is banned for any reason. Estimates from the Ministry of Health put the number of illegal abortions performed at 19,290 between 2005 and 2008. However, it's difficult to trace illegal activity properly, so some other estimates claim this is closer to the annual average. We do know, from a 2011 study by the World Health Organization that 11 percent of the women undergoing these illegal abortions die. That is, at the bare minimum, over 2,000 women.
Amnesty International reports that suicide now accounts for 57 percent of deaths of pregnant females ages 10-19 in El Salvador. Because in an attempt to terminate their pregnancies, women are "ingesting rat poison or other pesticides, and thrusting knitting needles, pieces of wood and other sharp objects into the cervix."
It was not so long ago that women in the United States were in a position similar to the one women in El Salvador find themselves in today.
Before the passage of Roe. Vs. Wade in 1973, it's estimated that between 250 and 8,000 American women were dying per year of illegal abortions.
Today, in the United States, women experience complications from safe, legal abortion less than one percent of the time. And whether or not anyone talks about it, it's a common medical procedure—30 percent of women in the U.S. have had a safe, legal abortion.
There will be people—like Republican Sen. Dan Foreman, an Idaho lawmaker who recently proposed a bill that would try women who have abortions for first degree murder—who will reply, "why don't they just give the baby up for adoption instead?"
I suspect if someone turned up and asked to live in Dan's house for nine months he would decline, and that's infinitely less invasive than something taking up residence in your body.
Still, the best answer to that is, perhaps because the United States is not such a wonderful place to have a baby. It is a place where, for many, the cost of prenatal care and birthing in a hospital runs around $3,500, and pre and post-natal care can raise that price to around $8,802. That doesn't take into account the incredibly costly proposition of raising a child and the fact that most companies still don't provide maternity leave.
More troublingly, the United States is a place where having a baby means risking your own life, as our Maternal Mortality Rate is the highest in the developed world.
The Maternal Mortality Rate (MMR) in the United States is, according to a study published in Obstetrics & Gynecology, now 24 in every 100,000. For perspective, if that does not seem like a significant enough number to cause concern, the odds of being an American killed in a terrorist attack by a foreign born individual are one in 3.6 million.
But then, don't we have it so much better than so many other countries? Well, in terms of women's reproductive health, not especially.
The Federalist makes an argument that women should not be dressing up to protest restrictions on abortion in Ohio because, "To compare restrictions on abortion… to the abuses many women still suffer around the world today is both intellectually insulting and downright dishonest… In Saudi Arabia, women aren't allowed to drive, wear makeup, or clothes that 'show off their beauty.'"
Pretending that women should remain quiet on the topic of their rights because women have it worse in other countries is absurd. We do not live in other countries. This argument should carry all the weight of a C student, who, when told to do better by their parents, replies by shouting, "I could be getting Fs! I could be shooting heroin into my eyeballs!" Which is to say, it should carry no weight at all.
The comparison to Saudi Arabia as a country that doesn't value women's existence is interesting and timely, though. Our Maternal Mortality Rate puts us statistically on par with Saudi Arabia. Though, in fairness to Saudi Arabia, the CIA dates that statistic regarding their MMR to 2010. Maternal mortality rates are generally on the decline, so Saudi Arabia's rate may have improved in the past seven years. The U.S. is the only country in the developed world where the Maternal Mortality Rate is rising.
So, it is very nice that we are allowed to wear makeup, but it might be nicer still if having a baby were not so likely to kill us. You want to talk about how much better the U.S. is for women than Saudi Arabia? Stop letting pregnant women die at the same rate as Saudi Arabia.
If the goal of anti-abortionists is to protect life in all its forms, then our MMR should be cause for great concern. It's especially high in places like Texas. While causes for women's deaths during and post pregnancy can vary wildly, and range from drug abuse to cardiac events, The Nation notes that, "We do know that most of them died because they were low-income women who lacked good medical care."
Today, as the Republican-led negotiations over the Affordable Care Act occur, experts, like Adriana Kohler, a senior health policy associate at Texans Care for Children, have voiced their concerns to Dallas News. She remarks that changes in funding—like those cutting back on Medicaid, which pays for more than 50 percent of the births in Texas—will "pose a real threat to prenatal care for Texas women and undermine efforts to address maternal mortality."
This is not a change that a group that actually values the sacredness of human life should be enthused about.
So, if you live in the U.S.—especially if you live in the U.S. as a low income woman—pregnancy is a dangerous business.
But you know one good thing about living in the U.S.? Citizens are not required to risk their own lives to save another individual. You do not, for instance, have to fling yourself onto the subway tracks to pull out someone who has fallen in. Unless you are a woman carrying a collection of cells which may become an individual—in which case, it would appear some people really, bewilderingly, expect you to.
But, you are not required to.
Not yet, at least. We have, thank God, not yet restored Mike Pence's "culture of life."
Though we may be coming closer. Missouri just passed a bill imposing additional restrictions on facilities that perform abortions, making it harder for them to operate. A prayer walk of 600 people in Charlotte North Carolina just declared that abortion is "more a man's issue than a woman's issue." (Spoiler: it is not.) In Ohio, a bill is being debated banning most abortions after the first trimester.
http://www.harpersbazaar.com/culture/features/a10033320/pro-life-abortion/?utm_source=nar.al&utm_medium=urlshortener&utm_campaign=Facebook