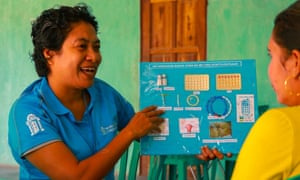 With issues of reproductive rights being raised in the senate and abortion law reform on the agenda for the election in Queensland on Saturday, it's time to stop and think about what it might be like if we had no choice in planning our own families.
Earlier this year my wife and I had our first child. She was 37 and I was 39. I couldn't imagine being better prepared than we were and yet today our house looks like one of the Wiggles exploded inside it and we are both very, very tired. I often asked myself, how would I ever have coped as a teenage father? What would my life be like if I had not one, but 10 children? While I can never know the answer, my job has given me some reliable insight; it would probably be really tough.
Over the years I have spoken with many women and men in quite a few countries who have come to Marie Stopes for contraception.
In urban areas they come to our clinics and in rural or remote settings we take our services to them. I have heard stories of terrible tragedy, of great optimism and of much in between. In Papua New Guinea I have spoken to women who were afraid for their lives because they knew someone who had died during childbirth. Indeed, I met a woman who had been told by a local health worker she would "probably die" if she became pregnant again. I have met men who worried deeply about conflict in their villages as the population grew and land became scarce. In Cambodia I have met young factory workers who can only afford to keep their children in school as long as they can keep working. In Myanmar I have met aspirational students who are the first in their families to go to university and are not at all ready to get married. The need to control their own fertility, and the challenge to do so, binds this diverse group together.
So today I no longer take the ability to plan my family for granted. And nor should I – reproductive rights are not guaranteed anywhere. Not in Australia, where senator Cory Bernardi recently introduced a motion intended to undermine abortion rights for Australian women. His series of proposals covered abortion funding, greater scrutiny of the activist group GetUp, and White Ribbon Australia's support for abortion, including late-term terminations. And reproductive rights are certainly not guaranteed in the US, which has rolled back employee rights to contraception in their healthcare coverage and slashed support to family planning programs in developing countries.
We need to fight to keep our current rights but should also fight to extend that franchise to others. Family planning is fundamental to both individual empowerment and national development and yet is somehow regularly overlooked by bureaucracies or targeted for elimination by conservative forces. There are 214 million women in the developing world who don't want to have a child right now but don't have access to family planning. As a result they are less able to control their futures. Their health, education, employment prospects and very standing in society will all be impacted by something Australians so often take for granted – the ability to choose.
When a woman can control when she has children, she can control her future – complete her education, pursue a career, run her own business or spend time with the children she already has. Marie Stopes International Australia has launched the #mychoice campaign. It is centred on a video that highlights the stark difference between Australia and developing countries in access to contraception methods that we often take for granted. We want to start a conversation with Australian women about what reproductive choice means to them. Because every woman has the right to decide when she will reproduce.
Chris Turner, Executive Officer and Regional Director Marie Stopes International
https://www.theguardian.com/commentisfree/2017/nov/25/when-a-woman-can-control-when-she-has-children-she-can-control-her-future?CMP=share_btn_fb