A new effort from the progressive State Innovation Exchange aims to put reproductive rights at the forefront of the country's agenda.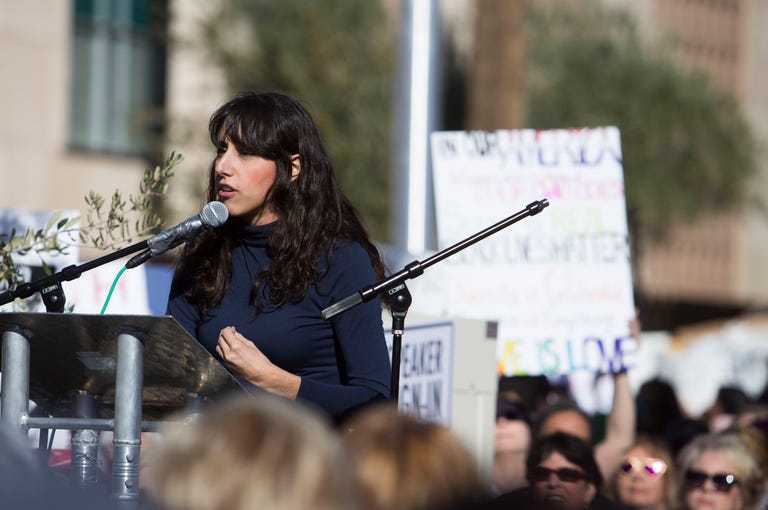 Renitta Shannon has never regretted her abortion.
Growing up, Shannon, who's now a state representative in Georgia, never got any guidance from her well-meaning, very religious parents about sex. She knew birth control existed but didn't know anything about it. She found out she was pregnant one day during her senior year of college, when she was studying for finals at the University of Florida.
"I knew it would unravel my life," she says. "And ultimately, I knew that at 22, I was not ready to become a parent."
Shannon — who has never before spoken publicly about her abortion — made her choice. She decided to talk about it now, 15 years later, she says, because she's tired of keeping quiet about something she believes is so vital to women's freedom.
"Abortion is only ever talked about when conservatives are trying to strip away rights," she says. "It's almost like nobody wants to talk about abortion until it's time to defend it."
Amid crackdowns on abortion access nationwide, Shannon and more than 200 other state legislators across the country have signed on to a new Reproductive Freedom Leadership Council launched on Thursday by the State Innovation Exchange (SiX), a nonprofit policy and resource center for progressive state legislators. The council's objective is to put reproductive rights at the forefront of progressives' — and the country's — agenda.
"The goal is to send the message that despite the 401 state-level abortion restrictionsthat have been passed into law since 2011, we do have leaders at the state level who are willing to stand up and fight for our rights," says Kelly Baden, SiX's director of reproductive rights.
The council aims to bring state legislators from Oregon to Virginia together in pursuit of that common goal, and ensure that liberal legislators in Alabama — who might not have as many allies in the statehouse — are connected to progressives in states like Vermont. The alliance hopes to keep lawmakers updated on the latest reproductive rights legislation and other related news, as well as help them talk about the issue differently. A big focus, Baden says, is reframing the issue of reproductive rights as not just a constitutional right, but a personal one, too.
According to the Pew Research Center, about 7 in 10 Americans oppose overturning Roe v. Wade, the landmark Supreme Court decision that made access to abortion the law of the land. "Between local, state, and national laws — and this chaotic news culture — it's hard for people to be fully informed of every attempt to restrict their reproductive rights," Baden says. "But when people do hear about them, they don't want them." The council, she says, will encourage state legislators to speak out about their commitment to the issue in order to "ramp up the public opposition to bad bills and help reverse the trend."
Last year, some Democrats, including Vermont Sen. Bernie Sanders and House Minority Leader Nancy Pelosi, faced backlash when they suggested that there shouldn't be a litmus test on abortion rights and the party should be open to anti-abortion politicians. SiX categorically decries progressives who claim reproductive rights aren't a necessary component to membership in the Democratic party. "Reproductive freedom is a central and necessary component of an inclusive progressive agenda," reads the new council's platform.
Athena Salman, a state representative in Arizona who has signed onto the effort, says reproductive rights is one of the main reasons she decided to run for office in 2016. On Thursday, she plans to submit legislation that would repeal major restrictions on abortion access in the state, such as the mandatory 24-hour waiting period and the ban on state insurance coverage for the procedure.
"I think what happens, unfortunately, in the past, is that we let the other side drive the debate and change the debate," says Salman, who believes women have been cut out of the conversation. "I'm hoping we can successfully shift the narrative and actually talk about the real reality that women face and also put the focus on respecting women's decisions and not judging them."
She likens the state legislators' efforts on reproductive rights to the #MeToo movement. "The only reason that the support for the victims of sexual harassment has gained traction is because not just in one instance, not just in one state, but women across sectors, and men across sectors in our society, are speaking out," she says. "And now you have this huge echo chamber and you're actually seeing some policy shift as a result."
This new coalition of progressive legislators, says Shannon, represents something of an offensive strike. "We are saying and affirming up-front: These rights are important to us. We want to advance reproductive rights. And we will not apologize for that."
Source: http://www.cosmopolitan.com/politics/a15060139/reproductive-rights-council-state-innovation-exchange/